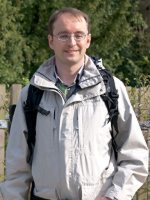 I (with full name Ulrich Eckhardt) like to ride my bicycle in the summer and take photographs.
I live in Groß - Zimmern (this link is in German language only) near Darmstadt 30 km from Frankfurt and 60 km from Heidelberg.
I am a graduate engineer for computer science (hope that's the correct translation for the German title "Diplom-Informatiker"). If I have some spare time, I work on various Plugins for the Linux-VDR.